Stephanie Jenner started Le Passage showroom in New York at the beginning of 2012. She has over 20 years experience of working in the children's wear industry.
Brands represented by Le Passage
Could you tell us a little about your agency and the brands you represent?
Before starting Le Passage, I mostly worked in sales for distributors of European brands in the USA. At some point it was finally time for me to do what I do for myself. Being French, I've always been drawn to better brands and this market. And as a shopper, I love to support small designer labels. So, at Le Passage, I combine both and seek to represent independent designer brands and help them develop their market in the USA. Today, I don't only represent International brands, I will also work with US brands that have a finer esthetic.
Above all I am interested in quality brands, who manufacture ethically, preferably use organic or high-quality fabrics … and generally speaking "care". I like a variety of styles, so I am attracted to a lot of different looks, but I am quite picky with quality. Being the mom of a boy, through the years, I have stayed away from brands that are too precious and been attracted to more current cool brands. Also, I must LOVE the brands I represent. I'm not good at selling a product I don't quite appreciate.
Do you work in a specific geographic territory? 
For most brands, I represent them through the country. Better products have a limited market in the USA and most buyers geared towards this market buy in NY. Besides, nowadays, a lot of things can be done electronically, it makes covering a wide territory a lot easier … if you are organized.
However, for certain brands, I am only their agent on the East Coast and they have a West Coast agent as well.
How did you become an agent?
I've been selling kid's clothing my entire professional life! As a student, I interned as the assistant of the export manager of Cacharel in France … while I intended on taking over the women's collection, I was assigned to everything related to the children's collection … and I loved it. I traveled to trade shows, sold the collection myself, I handled sales administration with agents and distributors. From there, after harassing the US distributor of Cacharel during a year, they hired me, and I moved to the USA, working as a sales agent for them, then I was promoted to sales manager (mostly selling French brands). Fast forwarding … I worked for a larger distributor selling mostly Italian brands, a lot of brand names, launched a US brand for a designer (took care of production and everything else down to picking/packing) … After so many years of making brands successful for others, I figured I could do it for myself … but not as a distributor, which involves having a huge bank account I didn't have, hiring staff, and running a way bigger organization in general … but rather as an independent sales agency, where I can finally choose the brands I want to represent.
What do you enjoy about being an Agent?
Is it bad if I admit to love playing with clothes? My favorite part of the job is receiving the new collections at the start of the sale campaign … and figuring them out, by myself. I get very happy doing this. I love touching fabrics, discovering designs, looking at construction details of garments … seeing the themes and stories unfold under my eyes. It's like opening a huge present! I love merchandising my lines, I get quite excited doing it.
I like selling too, a lot, if customers let me do my job. Working with buyers who give me the time of the day and are open to discover a collection "the right way" is fun. I really like working collaboratively with clients to make a good selection for their store: that feels great. It's super interesting to see how differently a brand can be purchased depending on the client.
I hate the harassment part of the job, but that wasn't the question!
What is it that attracts you to a brand?
There is no rhythm and reason, almost. It is an attraction, something is going to catch my eye, it can be colors, patterns, shapes. I am more attracted to brands with strong identities. Nowadays, if I look at a collection and I feel my inner kid smile, be happy and get excited, this is it. I am learning to trust my gut feeling.
And the people behind the brand. I mean it on a human level. I find it very important and a lot more pleasant to work with people I like for their human qualities and values.
How do you approach the curation of the brands you represent – do you focus on a specific look/style or seek out complementary aesthetics to offer your buyer a complete option?
I definitively try to offer different styles to present a variety of looks to my customers. In my portfolio, most brands are complementary, they sit well together in stores. But they are different. I don't want to compete within my own showroom. I consciously do not have 2 brands that look alike, to me.
Do you have to reject brands despite liking them, because they are not a good fit with your existing portfolio?
Absolutely. For instance, I was just approached by a brand I really like, to start working with them for SS19. But I feel like it may be esthetically too close to one of my existing vendors. I've been working with this existing vendor for a little while, it is going well, I can't take the chance to impact my brand negatively by adding a new one that could take some of its sales away (by having customer choose between the two). It doesn't feel right to me. I value loyalty and I owe it to my current vendor. It's hard to say "no" in this case but I feel like it's the right thing to do.
When is a brand ready for an agent? 
This is a hard question. There are so many possibilities. It depends on who starts the brand, what they can do and how involved they want to be. Some brands are launched by people who have no experience at all in the industry. They need help in specific areas, like sales, to be successful faster. Some others are veterans. They know their specialty and want to delegate certain aspects to other specialists. Some brands are already established by the time they hand over sales to agents. Some are brand new.
I have worked with a variety of different brands (new, mature, etc). It seems like the success of a collaboration with an agent is based on a lot of variables … but I will say that, for the USA, a brand is ready to work with an agent when they have their production and administration sorted out. I feel like the business side of things is more important than the design.
What creates a good relationship between an agent and brand? 
Like in a good marriage, communication! I don't know why it is so hard for people to communicate – honestly. When a brand communicates well, clearly, effectively and timely, for me, we're on the good tracks. When a brand is organized and efficient, it makes for a good partnership. I run my business in a naïve way. I say things as they are. For me, it's very important when both parties are honest and professional.
Finally, a good relationship starts with trust: the brand needs to trust the agent is going to do their best to market their products properly AND the agent needs to trust the brand is going to deliver what they are responsible for (manufacture a quality product, deliver it on time and handle sales administration with professionalism).
My best relationships are with vendors I know deliver season after season, on the design end as well as on the back side of the business … and they too know I do the best I can. It is a real collaboration.
How do agents balance their loyalty between the brands they represent and their customers? How involved do you get when orders don't go as planned?
My loyalty lies with who's right: sometimes it is a brand, sometimes it is a customer. For instance, if a client does not have a good track record of paying their bills on time, and a brand tightens their payment terms. I'll have to side with the brand. I can't help my customer if they've been faulting and have proven themselves unreliable.
On the other hand, if a brand delivers very late, after completion date, and a client doesn't want to accept their delivery, I'll side with the client. It is the brand's responsibility to deliver the order on time.
Whoever is right!
When orders don't go as planned, I do get involved! I'm here to help, in general.
What are the pitfalls to avoid for agents/ brands looking to work together?
For me, the pitfalls to avoid are the opposites of what makes a collaboration successful:
Lack of communication
Dishonesty
Distrust in each other's work / capacity to perform our tasks.
Does an agent's job extend further than driving sales? 
I think so, at least for me it does. I consider a part of my job to follow brands' philosophy. As their agent, I am to represent their image and try to place them accordingly. Some value image/quality over quantity … others don't. I act as to represent the brand's will.I put a lot of effort in explaining to my vendors how the US market works: the different mentality, agenda, characteristics, and more, to prepare them as best I can to service the market properly. This can be challenging sometimes.
I also help with the general sales administration when needed, whether it is to get in touch with an unresponsive client regarding a delivery or a payment due, or it is about getting a reply from a vendor on a special request that is not treated in a timely manner … I am really the in-between person!
I am also careful with accounts, for the brands' sake. I won't accept to work with clients who defaulted one of my brands in the past, without stating clear boundaries. I don't just write orders, I try to take "good" orders: I believe they are all going to be shipped. So, it is not only about driving sales, it is about generating serious business.
How involved do you get in providing qualitative feedback to brands from the market to help them develop stronger collections. How do you see your role here?
Funnily enough I don't like giving too much feedback on style/design. I believe a brand should have a DNA, that's why I chose it and I am not here to say what it should be. Of course, I will give general feedback on how the collection was perceived, and some big guidelines on how to improve the attractiveness of the brand for the market. But I do not like to give too detailed feedback. It is my job to sell the brand the way the designer envisioned it.
My husband is an artist. From day one, he told me: I need you to be my biggest fan, you need to tell me that what I do is great. I tend to behave like this with my brands too: I am their biggest fan, I like what they do, and I want them to continue being creative and express their talent. Who am I to say what they should be doing? I'm here to support their work.
Can you describe the relationship you have with your buyers? 
Maybe you should ask them!
I want to belive my buyers usually like me. I think it's a pleasant experience for most of them to visit the showroom and buy every season. It's pretty, the atmosphere is relaxed and there's no pressure. I am a fairly nice person and quite professional. I am not pushy, I am always honest. I am experienced, and buyers trust my feedback.
I tend to be quite private so, in that sense, my buyers are my clients, we have a professional relationship. Of course, through the years, some relationships have developed in more than that. I almost cried recently when a client told me she was selling her store!
Finally what piece of advice would you give to a young label looking for an agent? 
Take your time. Do some research. Meet different agents if necessary, look at their portfolio of brands, gauge their personality, try to assess how they may work … get information before committing. It is important to find the right fit.
Often I find that once a brand makes a decision to get an agent, they want it to happen right away. I think a brand should "date" an agent before getting married!
I'm a great sales agent, believe me … ah ah ah! But I may not be the best fit for everybody. It is important to have a good dialogue and listen, before jumping into a collaboration.
Indikidual
Barn Of Monkeys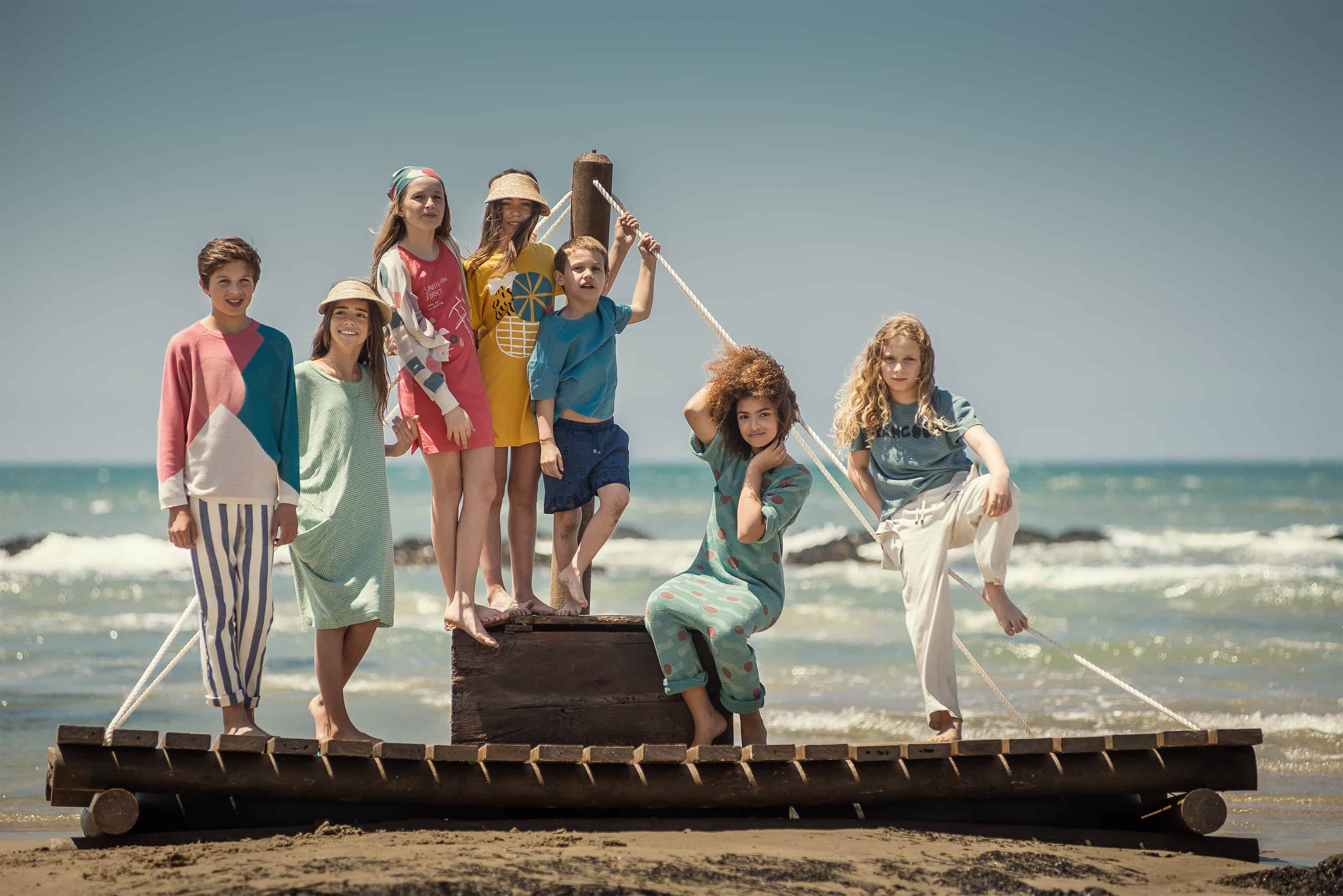 Emile et Ida
---
Le Passage
Showroom
250 West 39th Street – Suite 309 – New-York, NY 10018
Stephanie Jenner
Agent series
Part 1 – Ana Castan Puente of Tabata kids. Read here
Part 2 – Birgir Birgisson of Rhubarb Republik. Read here
---
Curly haired Editor of Pirouette & journalist for various publications. It's my pleasure to talk business, culture and life here at Pirouette.
All author posts
---
Subscribe to Pirouette's monthly Newsletter.